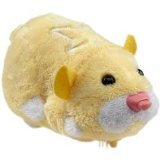 Just before BlogHer, this last summer, we were sent a Zhu Zhu Pets package, from Mom Select, containing a hamster and complete "habitrail." Although my kiddos had a fun time with this set, I honestly didn't think much of this little package until long after I returned from Chicago.
Now, I'm not quite so sure what all the hoopla is about, since my kiddos played with the Hamster and Zhu Zhu Pets Funhouse for all of a few days (which happened to be while I was in Chicago), but then they kind of forgot about it. I guess that was just my kids, though, because I've heard that the Zhu Zhu Pets Hamster is the most coveted toy since Tickle Me Elmo!
Guess what?
I have a brand new Zhu Zhu Pets Hamster and Ramp/Slide to give away to one very lucky From Dates to Diapers reader!
Here's what you must do to enter:
Leave me a comment, by 9pm (pst) on December 24th, telling me why you would like to win this prize package. Easy peasy!
For additional entries, daily, you may:

Link to this giveaway on your blog and/or Facebook wall. Be sure you leave me a separate comment for each link.
Tweet about this giveaway and include a link, using the hashtag #D2Dgvwy, as many times as you like before next Thursday night, and leave me a separate comment for each tweet.
One winner will be selected at random, and will be emailed. Winner will then have 24 hours to respond before forfeiting their prize.

Just in! :: Starting Saturday, and continuing each morning of December 21st, 22nd and 23rd, Walmart stores nationwide will un-cage dozens of Zhu Zhu Hamsters (each priced at only $8) at 7am each morning. Customers will be limited to one per person, and store distributions will vary, with a minimum of 20 at smaller stores to more than 60 per day in most stores.
Benefited Giveaway