We are big fans of Willy Wonka candies around here…. While Ray and some of our kiddos enjoy the chocolate (especially if it's dark), our other kiddos and I like the gummies. Mmm.
We just received our second box of sweet treats from Wonka's new Exceptionals candies, and boy – are they yummy! We've been opening each bar with eager anticipation as we hope for a Golden Ticket to signify that we've won a trip around the world or any one of the other fabulous prizes. It's like Charlie and the Chocolate Factory all over again.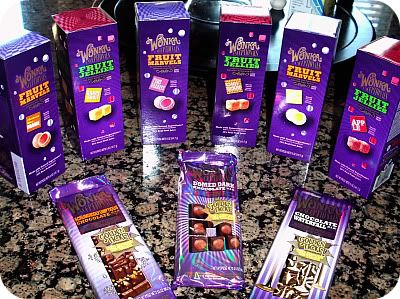 Guess what? I get to share the sweet love!
Enter to win one of two prize packs, each including 5 of each of the new WONKA Exceptionals chocolate bars and  one of each of the new WONKA Exceptionals premium sugar products. That's 21 candy products in each prize pack!
Here's how to enter:
Just leave a comment here on this post, before 9pm on July 16th, telling me about your favorite candy and why it is our favorite. Are you a dark chocolate lover, like my hubby, or do you prefer to nosh on sweet and sour gummies, like me?
Two winners will be chosen, at random, and notified by email on or around July 16th.
Benefited giveaway