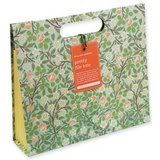 Galison.com is giving away THREE of the William Morris Clover Pretty File Totes to lucky MyMomShops readers. Here are the contest rules:

1) To enter, please leave a comment- any comment- on MyMomShops giveaway post.
2) Post your comment by 10pm EST tonight. One entry per person, please.
3) Three winners will be chosen at random and announced tomorrow morning, Friday, July 20th. You MUST check MyMomShops tomorrow to see if you won. (Winners will NOT be e-mailed. Unclaimed prizes are forfeited if not claimed within 24 hours.)

All may enter.