Since I homeschool, I very rarely have to pack lunches for my kiddos, but even when we're home, you will most likely find us munching on Goldfish crackers and applesauce!

Now, I know that most you are trying to get back in to the habit of packing healthy lunches for your kiddos to take to school, so I'm here to remind you that it's not necessary to spend a fortune to give your children a healthy lunch that packs well.

Smucker's, Mott's and Pepperidge Farms would like to help you out as you send your kiddos off to school with healthy lunches. Head over to www.lunchboxbuilder.com, create a custom lunchbox and print out some great coupons for Goldfish Crackers and Uncrustables Sandwiches.

Once you've done that, come back here (don't worry, I'll wait…) and enter to win a fab lunchbox care package, worth $150!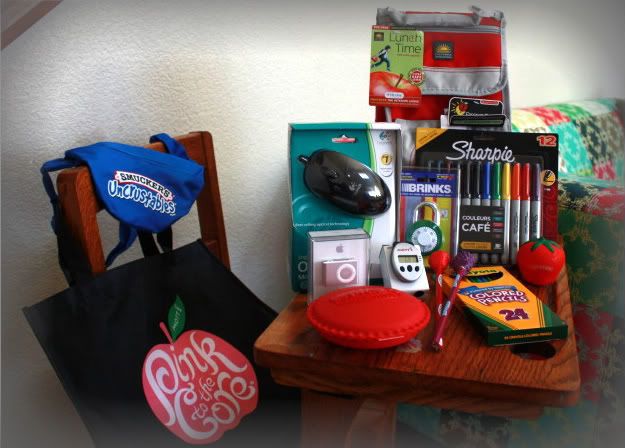 Here's what's in it:

iPod Shuffle
Insulated lunchbox
Smuckers Strawberry
Pencils
Coupons
Sharpie pens
Colored Pencils
Smuckers Uncrustables Container
Motts Reusable Shopping Bag
$65 Walmart Gift Card
Pedometer
An Optical Mouse
Smuckers Belt Pack
Here's how to enter:
Leave me a comment here, before August 26th, describing the lunchbox you create at www.lunchboxbuilder.com.
For additional entries: