Whether you've got older kiddos for whom to buy or younger ones, We've got some ideas… Let's talk about some of the hottest items, toys and otherwise, for the kids on our lists. You can see my picks below, Kristin's here and Erika's here! Happy Shopping!!

I'm sure you've heard all the rage about Hasbro's Littlest Pet Shop toys, right? My daughter especially enjoys her Littlest Pet Shop pets… She so lovingly sets up each one, in their "homes," and plays with them for hours!
The new Digital Planner is something she will flip over receiving for Christmas… not only will it allow her to store all of her aunts', uncles' and cousins' phone numbers and keep track of fun activities, but she can also play over 25 games and care for her pets like never before!
Air Hog makes the only cars that can climb walls, and the Zero Gravity Micro Car is not only small, but it is super fast! So, forget about those remote control cars that just scoot across the ground for the older boys… These Air Hogs Zero Gravity Micro cars moves in three dimensions. This amazing car moves across the ground, up the wall, and even upside down on the ceiling, by using a specially designed suction device. Now, this is a remote control car even I get excited about!

And for the younger Littlest Pet Shop lovers, treat them to a VIP of their very own! These plush pets are as cuddly as they are loveable. There are several pets from which to choose and each one has a secret code hidden in its collar. With this code you can help your new little pet owner unlock exclusive games, activities and lots of other cool surprises!
What's fast, fun and flippable? The
Bounce Back Racer
, that's what! Supercharge your toddler's need for speed (and controlling things) with this chunky, two-in-one R/C vehicle. My younger boys had a blast sending this orange and red sports car racing forwards or backwards, and racing the vehicle over obstacles to make it flip over! A plus is that with the soft, squishy body and oversized rubber tires kids can take this speedster for a spin without hurting your walls, feet and floors!

With the Vtech V.Motion (also known as the "Wii for babies"), this educational gaming system is designed to keep kiddos aged three to seven amused and motivated for hours at a time. My young kiddos have tons of fun using the wireless controller to solve puzzles and win races, all the while practicing hand eye coordination. Games and toys that mix with play with learning always get a thumbs up from me!

Looking for gifts that add fun and pizzazz to any room? How about Room Tech Beingz? With alarm clocks that dance and lamps that smile, the kids on your shopping list are sure to be thrilled to put these fun and functional Beingz on their night stand or desk.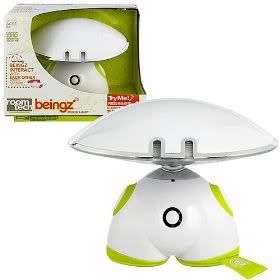 Now, for the Disney loving kids – Treat them to a rug from
FLOR
that shows their favorite characters! Choose from a
Disney Princess
design or a
Disney Cars
design and watch their eyes light up as you place the rug next to their bed!