Several months ago CuteyBaby sent me some of their exclusively designed Wall Decals. Now, I had every intention of placing these removable and repositionable – and may I say adorable? – decals on my children's walls in their bedrooms. But, aside from my kids placing a few random decals on their walls, I never got around to it.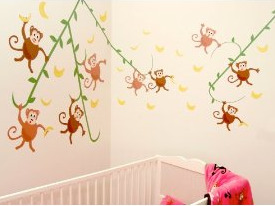 The beautifully created labels are designed to give bare walls design and flair, with very little effort. The decal sets I received have separate elements, so we look forward to using our imagination to create a special mural of our own. It'll be fun to get all the kids in on the action, too!
Seeing the quality of these decals, and the well-designed images, I think they would be a great way to bring some color and beauty to a new nursery, or spoof up your child's bedroom walls. Even a bathroom can be completely transformed by a set or two of these CuteyBaby Wall Decals!
Oh, and did I mention that CuteyBaby's wall decals are kind to walls? So far, the few my kids have placed have been applied and removed multiple times, and I've noticed that they have not harmed our walls in the slightest (my kids do a good job of that on their own!), but they stick firmly and smoothly each time. No messy transfers, no water, no glue. Just peel and stick!
About CuteyBaby
Ada Vaughan is the brains and heart behind CuteyBaby. She is a mom, graphic designer, and marketing geek. CuteyBaby's mission is to enhance the lives of children and parents through ingenuity and design.
Do you have any decorating secrets?
How do YOU decorate your kids' rooms?