Today Nintendo launches the Nintendo DSi, the third iteration of the best-selling portable video game system and the latest evolution in hand-held gaming. Nintendo DSi gives new and veteran gamers the ability to customize, personalize and share their experiences with friends and family.

The concept of entertainment is clearly expanding to enable self-expression and creation in ways never before possible. Nintendo DSi is loaded with software to help people do exactly that. It's not just about the cameras or audio playback, but what people can do with these features that makes Nintendo DSi such an enjoyable game system.
I received this not-yet-released-at-the-time game system on Friday. It came in a fun box that clapped and yelled when you opened it. I couldn't keep it away from the kids long, but soon discovered this was a system that would be all mine!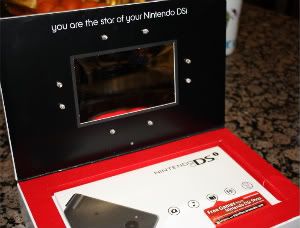 With downloadable games and more interactive features, the DSi beats the previous DS systems hands down, in my opinion. It features the first truly interactive digital camera in a video game system with 10 different interactive "lenses" that can manipulate your photos. This new game system also features a music player that allows you to play with your music while they listen to it, as well as an interactive voice recorder allowing you to record sounds and manipulate them in interesting and imaginative ways.

I'm still trying to figure it all out, but so far I'm having a great time with my new Nintendo DSi. Now, to check out the Nintendo DSi Shop (also launching today)….

The Nintendo DSi is available today, in blue and black, for $169.99