Somewhere in the world a woman dies from breast cancer every 69 seconds.
Wow.
It saddens me to know that every single one of us have been effected in some way by this awful reality. Maybe you have beat breast cancer or know and love someone who has suffered from it.
Today you can show the world the power of pink by uploading your photo to the Susan G. Komen mosaic. Or, you can sign the petition to show your support in making cancer a global priority.
It only takes 69 seconds to help #fightbreastcancer.
Tomorrow – the first day of October – begins National Breast Cancer Awareness Month and I am excited to say that I have teamed up with Eggland's Best as one of their Pink Dozen ambassadors.
Not only is Eggland's Best going pink this month by placing an official pink ribbon stamp on EB packaging (as well as on each individual egg!), but they have also made a $50,000 donation to the Susan G. Komen Foundation to help #fightbreastcancer!

.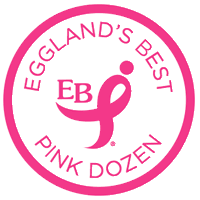 Keep your eye on us here at From Dates to Diapers, over the next two months (yes, November, too), as we highlight ways that you can help fight breast cancer. For now, though, please check out what Eggland's Best is doing ::
o   EB Website http://www.egglandsbest.com
o   Facebook- http://www.facebook.com/egglandsbesteggs
o   Twitter- http://www.twitter.com/egglandsbest
o   YouTube- http://www.youtube.com/egglandsbesttv
o   Foodbuzz- http://www.foodbuzz.com/news/2702820-eggland-s-best-supports-susan-g-komen-for-the-cure-
This post is sponsored by Eggland's Best.  I received monetary compensation for my participation, but my review and opinions are my own.