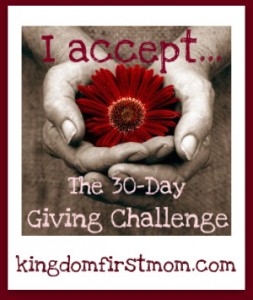 With Galations 6:9 as her inspiration my sweet friend, Alyssa, recently created the 30 Day Giving Challenge to begin on November 1st. The idea is to give of yourself every day during the month of November. She says we can give our time, talents, money, assets, or just do something nice for a neighbor. Part of the challenge requires us to write down every time we feel God's prompting, for all of 30 days! The other part encourages us to write down every time something comes back to us.


.
Here is how Alyssa's Challenge will work:

On Sunday, November 1st, she will post a Mr. Linky and invite all participants to RSVP.
Post about the challenge on your blog, with a few ideas about how you plan to give each day.
Update weekly with your results, as little or as much as you feel led to share.
On November 30th, Alyssa will post a final update with a linky so we can all see the impact of one month of giving.
Armed with my virtual journal I am going to document my giving as well as my harvest, and I encourage you to do the same! Let me know if you decide to accept Alyssa's challenge, but remember to sign her Mr. Linky, too.

Let us not become weary in doing good,
for at the proper time we will reap a harvest if we do not give up.
~Galations 6:9