This morning I had the privilege of showing some fabulous mom-invented items to all of the Sacramento area, via FOX 40′s morning show. Take a look::
I've listed each of the featured items below, with prices and the place where you can find them. Check them out – It's always fun to see what moms came up with to make our jobs easier or more fun!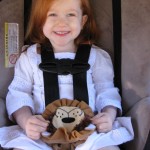 Baby Buckle Pad
The Baby Buckle Pad is a cute, lion shaped pad that fits on any car seat, stroller or high chair buckle to prevent children's legs from being pinched during buckling. Also prevents pressure marks from the buckle, keeps buckle from getting too hot or cold against children's skin and keeps children from unbuckling their safety belt. Easy to remove and clean.
$24.95, mommaedison.com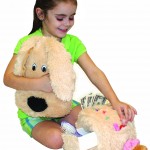 Treasure Chest Pets
Treasure Chest Pets are the first and only organizers that make putting things away fun and a great way for kids to keep their special things safe. Designed to look like cuddly stuffed animals, each TC Pet has a magnetic, detachable, pillowy stuffed animal head and stuffed animal bodies that contain external and internal compartments for organizing and storing children's (and grownups!) treasures. Treasure Chest Pets are a great way for kids to keep their special things safe. Six different stuffed animal designs to choose from in 3 three different styles – Accessory Chest Dog and Accessory Chest Pig have a hidden drawer and two secret pockets on the outside, along with secret pockets in both ears. Treasure Chest Monkey and Treasure Chest Cow have one gigantic pocket inside that opens like a treasure chest. Media Chest Bear and Media Chest Horse have a secret pocket inside the head and 3 compartments in the body to store CDs, DVDs, speakers/cables, MP3 player and more.
$19.99, mytcpets.com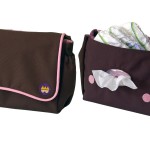 My Royal Heinie Daypack
The My Royal Heinie Daypack is the best combination of affordability, functionality and style in a diaper bag. It is also the only diaper bag fully equipped with a built-in Smart Wipes Dispenser on the market. Just load a stack of wet wipes right into the heat-sealed pocket in the front of the bag and quickly access wipes with one hand when diaper duty calls! My Royal Heinie Daypacks can be personalized with a name or monogram.
$34.99, myroyalheinie.com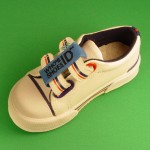 Who's Shoes ID
The Who's Shoes ID helps reunite parents and caretakers with their children as quickly as possible, and decrease the likelihood of children getting injured or kidnapped due to the child not being able to communicate with people and give his or her parents' or caretakers' contact information. Especially crucial during travel. The Who's Shoes ID easily and discreetly attaches to all types of shoes, sandals, belts, swimsuits, etc., and contains emergency information to quickly reunite a lost or injured child with a caregiver. Excellent for vacations or even daily outings. Kit includes two ID bands, photo ID card for parents to carry, DNA collection instructions and travel safety tips. Who's Shoes is endorsed by several missing children's groups, including the national Klaas Kids Foundation and the Laura Recovery Center.
$7.99, whosshoesid.com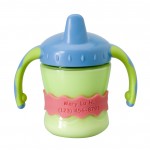 BumpyName
The BumpyName is a line of cute, mom-invented, elastic rubber orbit labels. BumpyName labels are personalized, non-adhesive, reusable and come in a variety of colors. BumpyName's stretchy, elastic design allows it to snugly fit around or "orbit" a container, but can simply be taken off when not wanted BumpyName works great on everything from baby bottles to sippy cups to snack containers. Each label has a child's standard written name as well as the name in Braille. BumpyName labels are heavy duty and can withstand the rigors of repeated dishwashing, microwaving, boiling and sterilizing all while maintaining a clear personalization of a child's name as they progress from baby bottles, to sippy cups, to regular drink bottles.
$11.95 for a package of 4 name and color customized BumpyName Orbit Labels, inchbug.com
I was sent the items listed above,
in exchange for showing them during the news segment.
{ 9 comments }