We recently had the privilege of publishing a guest post from Ray La Point, owner of Delight Cleaning. Ray's company provides professional carpet cleaning, natural stone care and house cleaning.
Just after I posted some of his tips and tricks, Ray came out and cleaned all of the carpets on the first level of our house. Boy, what a difference his hard work made! Our carpets had not been that clean since the day we moved in, I'm certain! In fact, we were so happy with the results that we have them coming out again this week to do the upstairs. (I'll try to post pictures this time.)
Delight Cleaning is based here in the Sacramento area, BUT you don't have to live in the Sacramento area to benefit from Delight Cleaning and all they have to offer. At the Delight Cleaning blog you can find ways to prevent and clean up spills and protect your carpets, as well as some fabulous cleaning tips.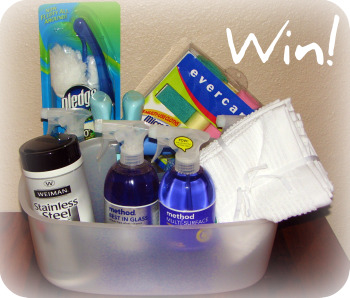 In an effort to assist you in your cleaning needs, Delight Cleaning has put together a bunch of great stuff for you to win here at From Dates to Diapers. You can enter to win a cleaning caddy stuffed with everything you need to keep your home healthy and clean. A $60 value, this prize package includes:
1 Carrying Caddy
1 Container of Weiman Stainless Steel Wipes
4-pack White Terry Cloth Towels (for absorbing those carpet spills!)
4-pack Microfiber Cleaning Cloths
2 packs of Scotch-Brite(R) Kitchen Sponges
Pledge(R) Multi Surface Duster
Method(R) non-toxic products for every surface in the house, including: Best in Glass (streak-free glass cleaner), Multi-Surface (natural all purpose cleaner), Le Scrub (gentle abrasive cleaner), Daily Granite (granite + stone cleaner), Wood for Good (wood surface cleaner)
Here's what you must do to enter:
Answer the following question in the comments below, before 9pm (pst) on January 30th: What area of your home is the hardest for you to keep clean?
For additional entries, you may:
Link to this giveaway on your blog and/or Facebook wall. Be sure you leave me a separate comment for each link.
Tweet about this giveaway. Be sure you include a link to this giveaway and the hashtag #D2Dgvwy, and you may tweet as many times as you'd like before January 30th at 9pm (pst), but leave me a separate comment for each tweet.
One winner will be selected at random, and will be emailed. Winner will then have 24 hours to respond before forfeiting their prize.
Benefited giveaway