For those of you who know me, you know that I am a snacker. In fact, my good friends, when they come to visit, head straight for my pantry and know they can help themselves to whatever they can fine – which is most typically just about anything!

Salty snacks, sweets, and dried fruit can be found just about any time you look. And a birthday party at the Young's house is just not complete without a few strategically placed bowls of Muddy Buddies!

Well, I am excited about the prospect of adding Chex Mix Bars to my pantry shelf. These new snacks combine crunchy Chex pieces, pretzels and peanuts with chewy and indulgent ingredients like caramel and chocolate – Sounds like the perfect combination of sweet and salty, doesn't it? And if that´s not enough, they have less than 150 calories per bar and provide at least 8 of the 48 grams of the daily recommended whole grain!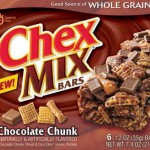 Guess what? Three of you will be treated to a "Baskets of Indulgence," complete with a box of tasty Turtle Chex Mix Bars to sample, chocolate candles, caramel lotion, and spa essentials (including a a loofah, hand massager, nail brush and spa towel)!

There is nothing better than grabbing a good book and a good, chocolatey snack, and lounging in a hot bubble bath…. A mom can dream, can't she?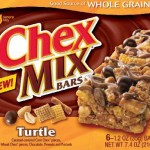 There are lots of ways for the snacker to enter. Here's what you need to do:
.
Leave me a comment on this post, by 9pm on February 1st, telling me about your favorite snack.
Since we've bonded over a shared love for snacks, I figured I would offer you another entry…. You may enter a second time by leaving another comment, telling me what else you and I have in common. Be sure you read more about me first!
For additional entries feel free to grab my button and place it on your sidebar, send a tweet, or leave the link to this giveaway on your Facebook page. Be sure to leave me a separate comment with a link to your blog, tweet or Facebook page.
You may also subscribe to my blog feed for yet another entry, and leave me a comment saying you did so. You must remain a subscriber during the entire duration of this giveaway.
Three lucky commenters will be chosen at random, and will be notified via email, so make sure you leave a valid email address in your comments.

Check out more great giveaways at the Bloggy Giveaway Carnival!