When Gwen was pregnant with her daughter, Elizabeth, she decided to put the designs on clothes. So, the Little E Chickie wear line began. The clothing is printed on 100% organic cotton – a very important thing to Elizabeth – though she doesn't quite know that yet!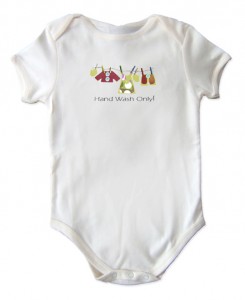 It is certainly is very important that the little ones are comfortable and what better to dress them in than 100% cotton, right? Well, not only is Simply Chickie Clothing comfortable, but it is absolutely adorable. Some pieces are so cute, they're sure to make you laugh!
Simply Chickie Clothing is becoming very popular and was even featured in Parent's Magazine back in October – "Babies butts are the new billboard" – Ain't that the truth!? Pretty soon Simply Chickie's fodder will be seen on all of the celebrity babies' "billboards," so why not start with yours? Most items are available in sizes up to 6, so even your bigger kids can sport a fun saying!
Simply Chickie has offered any item of the winner's choosing for today's first giveaway! (Yes, there are TWO giveaways today, so be sure you stay tuned for the second one!)
Here's what you must do to enter:
Visit SimplyChickieClothing.com and browse around a bit. Then leave me a comment, by 6:00am (pst) on December 23rd, telling me which item you love and why. Please include the size you would like to receive if you were to win.
For additional entries, you may:
Link to this giveaway on your blog and/or Facebook wall. Be sure you leave me a separate comment for each link.
Tweet about this giveaway and include a link, using the hashtag #D2Dgvwy, as many times as you'd like before Wednesday at 6:00am, and leave me a separate comment for each tweet.
One winner will be selected at random, and will be emailed. Winner will then have 24 hours to respond before forfeiting their prize.
Benefited giveaway