My love of books began at a very early age… Mom would often read to my siblings and me, and it was then that I discovered a whole new world. Through the pages of books I met amazing people, went on fantastic adventures, listened to rich conversation, and even found myself in far off places. It was always amazing to me where stories could take me.
I hope that I have instilled this same love of the written word in my children, as we go on some of these same adventures and find ourselves in far off places. We're meeting new people, too. Becoming witness to dinner conversations, battles, and fun interactions between a man with a yellow hat and his curious little monkey. We're discovering how to be a good friend , how to love each other, and how much God loves us, all through the stories that we read.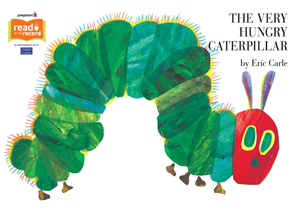 In just a few short weeks, on October 8th, hundreds of thousands of people around the world will open Eric Carle's beloved book, The Very Hungry Caterpillar, and read aloud to children in their homes and communities. Together we'll set a new record for the world's largest shared reading experience – ever!
Would you like to know how you and your family can get involved?
Pick up a copy of The Very Hungry Caterpillar at your local Walmart (for only $8!). All net proceeds from the purchase of this particular book from Walmart will go to Jumpstart to help keep kids reading and literacy strong in our communities.
Join the Twitter party on September 24th, from 8-10 pm CST, and be entered to win a copy of the book! Every 100th tweet with the #jumpstart hash tag will win!
And then, on October 8th, join us as we read for the record!


To give you a jump start on this challenge, we are giving away a copy of The Very Hungry Caterpillar here at From Dates to Diapers!

Here's how to enter to win ::
.
Share this challenge and giveaway with others via Facebook or your own blog. Include this link – http://bit.ly/3uB5ka – and then leave me a comment with a link to your status update or post.
Tweet the following message and leave me a comment with a link to your tweet :: Join the #11moms and #jumpstart as we Read for the Record on October 8th :: http://bit.ly/3uB5ka #D2Dgvwy
A winner will be chosen on September 24th, at 6pm (pst), and announced during the Twitter party.
Happy Reading!
I have not been compensated to blog about this pledge or host this giveaway. It is due to my passion for reading that sparked the desire to share this great opportunity with you and challenge you to participate.