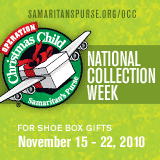 All it takes is a big heart, a shoebox full of gifts, a bit of time and a whole lot of prayer.
It's National Collection Week for Operation Christmas Child. Are you packing a shoebox or two to participate in the world's largest Christmas project?
Tell your Operation Christmas Child story on video and share it on ShoeTube to inspire other shoe box packers! Don't forget about the contest that ends on November 22nd – Samaritan's Purse staff will choose three finalists, and supporters of Operation Christmas Child's Facebook page will vote for their favorite video. The winner will travel with an Operation Christmas Child team in 2011 to distribute shoe box gifts to children. (Be sure to read the guidelines before submitting your video.)
Not sure how to pack a shoebox? Watch this fabulous tutorial to see how easy it really is to bless needy children all over the world.
Disclosure: I am a member of the Operation Christmas Child blogger panel and write about the ministry on a volunteer basis. All posts are my own thoughts and do not necessarily reflect the views of Samaritan's Purse. As part of the blogger panel, I will travel with Operation Christmas Child to the California Processing Center to prepare shoe box gifts for overseas shipment. I am not an employee, agent, or contractor of Samaritan's Purse.