If you are here at BlogHer and happen to see me, don't stop me… walk with me!
Here's why ::

I'm on a mission. A mission to clock more steps than some of my fellow mom bloggers. Why? Well, if I do, in fact, take more steps than the others, I get to decide which charity should be given $5,000! Cool, huh?

Let me tell you a bit about my competition ::

*Briana blogs at BargainBriana.com, where she can teach you to save money while you shop.
*Shannon of PhatMommy.com, is a fellow homeschooling mama.
*Liz is blogger extraordinaire at ThisFullHouse.com.
*Sweet Tanya is the author of MommyGoggles.com, and is also a fab photographer.
*And, Elizabeth of Busymom.net is a mom of three. I actually feel like it's a bit unfair that I'm competing against her, with her knee injury and all. Well, maybe not so much.

Now, these ladies are all amazing, but not one of them runs after six kiddos all day long, so they really don't know who they're up against!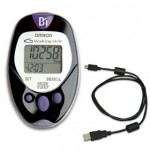 I bet you are wondering how we are going to keep track of our steps, huh?
Here's how ::

We were each given an Omron pocket pedometer; the HJ-720ITC, to be exact. From 12am TODAY thru 11:59pm on Saturday, our wonderful little gadgets will be keeping track of every. single. step. You can bet that I'm even grabbing it if I need to make a trip to the ladies room tonight… every. single. step. counts!

We will know, on Sunday, who clocked the most steps and their favorite charity will be given $5,000!! I'll be sure to share the news!

For now, wish me luck… I have a feeling my feet will be sore come Saturday night!


In exchange for accepting this challenge, Omron sponsored (in part) my trip to BlogHer.