Each of my kiddos were recently gifted with a personalized meal time set from Olive Kids. Julia's butterfly set arrived first, as a surprise, and the boys were just thrilled that she received something so frilly, as our house somewhat lacks in the "girly" department. When I mentioned that each of my boys could pick out a design for a set of their own, they were so excited – I wish I could have captured their enthusiasm on film!
A few weeks later when the boy's sets arrived, there were placemats and plates all over the place before I could reach my camera – Yet another missed "kodak moment" – a sure sign they liked their new sets.
It's fun to see my kids so enthusiastic about setting the table with their new place settings. There is no fighting about who gets what color, because they all have their very own! I love that something that can make each of my kiddos feel so special makes so much sense.
Most often I can even find the placemat and matching plate sitting on our counter bar top with not a child in sight…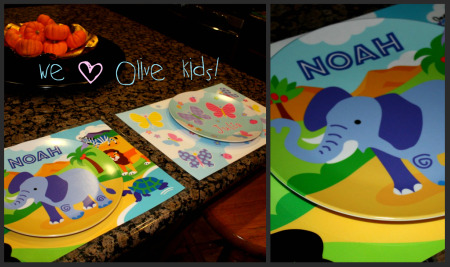 How would you like to win a personalized meal time set from Olive Kids?
Here's how to enter to win ::
Visit Olive Kids and leave a comment here telling me which set you would choose and who would be the lucky recipient.
Share this giveaway with others via Facebook or your own blog. Include this link – http://bit.ly/ktrZ7 – and then leave me a comment with a link to your status update or post.
Tweet about this giveaway, including the link above and the hashtag #D2Dgvwy (you can also give a shout out in your tweet to @OliveKids, if you'd like, but it's not mandatory)
A winner will be chosen on October 31th, at midnight (pst), and will be notified by email.