My mom always set us up with fun things to do and create, especially around Christmas, but there is one incredibly easy craft that I particularly remember – We pressed cloves into the skin of an orange, rolled them in spices, and hung them as decorations. The sweet aroma filled our home, and to this day I remember that spicy scent with fondness.
As I was browsing through NestléFamily.com, I came across a similar holiday craft and look forward to making these with my kiddos this week ::
All it takes is a few minutes to transform an ordinary orange into a lovely candleholder. You'll need an orange, a metal tea light, some cloves and a paring knife. Cut a hole in the top of the orange that's a little bit larger than the diameter of the tea light. Create a space for the candle to sit, and place it in. Next press cloves into the orange skin. Light the candle, then sit back and enjoy the delicious spicy-citrus scent.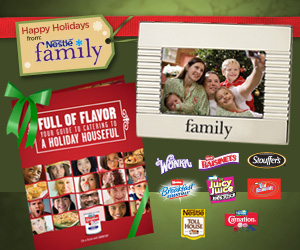 Nestlé has offered a Holiday Gift Basket for one of you, for one of today's giveaways! (Yes, there are TWO giveaways today, so be sure you enter to win an adorable item from Simply Chickie Clothing, too!)
This gift basket is worth over $40 and contains all of the following (most in the form of gift coupons) ::
· Toll House chocolate chips and cookie dough
· Carnation Evaporated Milk
· Breakfast Essentials
· Stouffer's
· Juicy Juice
· Boost Kid Essentials
· Wonka candies
· Rasinets
· A 4×6 silver photo frame
· The Carnation holiday recipe guide
Here's what you must do to enter:
Visit NestléFamily.com and browse around a bit. Then leave me a comment, by 3:00 pm (pst) on December 23rd, telling me which craft, recipe, or new tradition you may want to try with your family this year.
For additional entries, you may:
Link to this giveaway on your blog and/or Facebook wall. Be sure you leave me a separate comment for each link.
Tweet about this giveaway and include a link, using the hashtag #D2Dgvwy, as many times as you'd like before Wednesday at 3:00pm, and leave me a separate comment for each tweet.
One winner will be selected at random, and will be emailed. Winner will then have 24 hours to respond before forfeiting their prize.
Nestléfamily.com is also hosting a Holiday Memories Photo Contest where you can enter to win a $500 gift card, as well as other prizes. There will be five grand prize winners who will receive a $500 gift card and then 45 $50 gift cards for all 45 finalists. So, grab your holiday memories and enter now!
Benefited giveaway