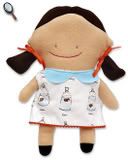 The Domestic Diva is having a giveaway!
You can win your own Lindie & Friends doll! Lindie & Friends has agreed to give away a doll of their choice to one lucky reader of the Domestic Diva. The rules are simple. Best of luck to everyone!
Here's How to enter…
1. Write a blog post linking to Lindie & Friends as well as to the giveaway post, so that others may enter. (You do not have to have a blog to win but it would be nice if you could tell others about this contest either through e-mails or online communities, so that they may enter as well.)
2. Sign the Mr. Linky on the giveaway post, with your name and DIRECT POST LINK (if you don't have a blog just leave your email address so that we may contact you if you win).
3. Winner will be chosen, at random, by a computer generated program sometime on Saturday, August 18, 2007. This contest giveaway will run from now until Friday, August 17, 2007 at midnight EST.