I love to have my kiddos help in the kitchen. Not a meal goes by that at least one of them did not help prepare. Come to think of it, I don't do much without my kiddos… Whether it's the dishes, cooking, or making special treats, they are constantly working right beside me. And what better way to learn?! I mean, one learns by doing, right?
For a child, the world around them is a magical and curious place. They learn by mirroring Mommy and Daddy with the ultimate goal being "to do it myself" and feel like an active member of the family. That's why Little Partners has created the Learning Tower: a sturdy, non-tip structure that welcomes the child to safely participate with parents, caregivers, and siblings by raising them to countertop height.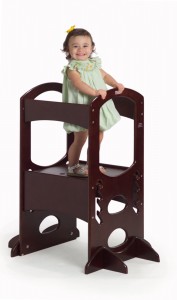 In honor of Love of Learning Month, 20 Learning Towers are being given away at your favorite blogs! Each Learning Tower retails for $189.99 and comes in several wonderful colors: Natural, Dark Cherry, Ebony, Soft White, Red, Azure Blue, Royal Blue, Pink, Apple Green. You can check them all out at www.littlepartners.com.

***This giveaway is now over and Tracey has won! In the winning entry she said, "My daughter loves to help in the kitchen. We let her always help with measuring and mixing in the ingredients whenever we can. This learning tower would help her to stay secure while doing that. Fingers crossed." Have fun, Tracey!***

You can see all of the participating blogs with the date of each giveaway at www.loveoflearningmonth.com… There are still quite a few to be won!