Today's date – February 29th – isn't on the calendar every year. If not for this extra day every four years, the year as we know it would cease to exist. This leap year shift keeps the calendar in line with our seasons.
In honor of the extra day this month our blogging friend, Jessica, created a fun little meme with a list of questions for a group of us to answer on our own blogs. It was fun to join in, and super easy, too! (Find out how you can join us below.)
Here's a peak in to my head…
1. My childhood nicknames, coined ever so lovingly by my Dad, were Chrissy Pissy, Christiney Weeny Bambini and Chriserella. No, I am not joking. Yup… lot's o' love!
2. If you want to spoil me rotten, buy me anything that shows me how much you care. Seriously, it's THAT easy.
3. The television character I most identify with is Debra Baron from Everybody Loves Raymond. If you've seen the show and know me, even a little, you'll know why!
4. If I had a whole day to go shopping and money to spend, I would go to Ikea. Oh, how I would love to decorate my home and make it warm and cozy.
5. The most wild and crazy thing I have ever done (that I can admit to publicly) is have seven children. I'm told that's wild and crazy… But, really? It's just my life.
6. The one thing on my bucket list that I am most eager to do is spend a significant amount of time in Italy. Exploring, learning, enjoying, living.
7. My family will always be loyal to each other.
8. If I could spend a day with a celebrity I would choose to hang with Duff Goldman from Charm City Cakes and Ace of Cakes. What could be better than creating beautiful works of art that you can EAT with a master pastry chef?
9. In my opinion, the best invention in the history of the world is the washing machine. I mean, could you even imagine washing nine people's dirty laundry by hand? No, thanks!
10. When life hands me lemons, I make Lemon Drops! Mmmm!!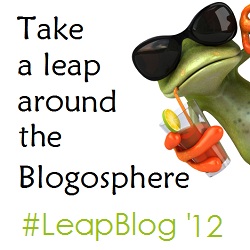 Would you like to join us for this special Leap Day Blog Hop? It's easy – just copy the questions above (in brown) and swap out my answers for yours. Be funny or serious, reader or pr friendly, one word or full story answers and kept in line with your blog's theme. Anything goes!
Fill in the linky below with a direct link to your post and hop around to learn more about your fellow bloggers. We even have a hashtag for this little meme! Use #leapblog when you blog out your post
Link up!