Last month I was asked to be a guest at Kodak's Print and Prosper online blogger event with Laura Rowley, personal finance expert and author. I was pretty happy with my printer at the time, but was intrigued by the very idea that I could save money on ink by using the Kodak ESP 7 All-in-One Printer over my current printer.

Before I committed to attend, and consequently receive a printer to review, I decided to calculate how much money I could save if I were to switch. I was shocked to discover that I would save $135 a year!! (Keep in mind, I print pages for my kiddos for school every single day, so this is well above average. But, WOW!)

I quickly agreed to participate and am so glad I did… I not only love my new printer, but Laura was full of great ideas for cutting costs in every area of the home. I also gleaned so many fab tips from my fellow bloggers, as well. Here are just a few from Laura:

MAKE A LIVING FROM YOUR LIVING ROOM
Watch a little closer. Americans pay an average of $60 for cable, but only watch 15 channels, according to the Consumers Union. If you pay for premium cable, call your provider and put the service on "vacation mode." You'll still receive basic service but save temporarily on the extras – and get a good sense of whether you miss them. If you don't, call the cancellation department and say you're considering eliminating service altogether – this department has the best deals on hand to keep you as a customer.

CREATE A HOME (OFFICE) TO CALL YOUR OWN
Rethink your ink. Equip yourself with items that stretch your dollars like Kodak's All-in-One Inkjet printers, which can save you up to $110 a year on ink.

DON'T FLUSH MONEY DOWN THE TOILET
Go with the low-flow. Water bills can be cut back 25 to 60 percent by replacing showerheads and faucets with low-flow aerating models for $10 to $20 each. Look for a model that's 2.5 gallons per minute to save on average $200 per year.

DON'T GET TAKEN TO THE CLEANERS
A dirty secret. Households spend an average of $1,500 a year on dry cleaning, and 65 percent of those clothes are washable, according to Proctor and Gamble research. Wool, cashmere, silk, rayon, polyester and spandex can all be laundered, saving America $750 a year.
For more great tips on saving money throughout your home visit www.moneyandhappiness.com. And, to calculate how much you are overpaying, go to www.printandprosper.com.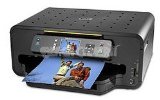 And still more good news for you :: Kodak and I are so excited to be able to give one of my lucky readers their very own Kodak Ink Jet ESP 7 All-in-One Printer (retail value $199.99)! But that's not all! Oh, no! There have been over twenty printer giveaways posted across the blogosphere, and the winner of each one will be entered to win a FULL scholarship to BlogHer in Chicago this summer, including overnight accommodations AND travel accommodations, courtesy of Kodak!

Here's how to enter:
.
Head over and calculate how much you overpaid last year because you were not using the Kodak All-in-One printer and then come back and tell me what you would do with the savings. You must enter by 9pm on Sunday, May 17th.
For additional entries you can send a tweet with a link to this giveaway, or leave the link on your blog or Facebook page. You can even grab my button from my sidebar and place it on your sidebar. Be sure to leave me a separate comment with a link to your blog, tweet, or Facebook page.
You may also subscribe to my blog feed for yet another entry, and leave me a comment saying you did so. You must remain a subscriber during the entire duration of this giveaway.
One lucky winner will be chosen at random and will be notified via email, so make sure you leave a valid email address in your comments. And, remember… If you win this giveaway you will also be in the running for an all-expense paid trip to BlogHer this year!

Good luck and may you "live long and prosper!" Sorry, just couldn't resist! hehe