"When Motherhood Meets HAZMAT" was selected as the winning story!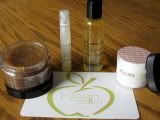 Karen at Pediascribe is hosting a writing contest.
Here's the scoop:
Bloggers post a story from their lives in which their kids got them super ultra icky dirty. It could be dirt and grime, puke or poop, whatever. Something that got all over YOU and made you feel filthy! Something so icky you wanted to take a hot shower ASAP. Post that "dirty" story on your blog with a link back to this contest. If you win, you'll be able to choose THREE things from the following list:
body polish
,
lotion
,
body wash
,
foam soap
,
essential oil
,
mister
, or a
candle
. You even get to pick what scents you want for each item!
Here's the contest timeline:
Tuesday, July 17th: Your "dirty" story must be posted on your blog by 5:00 p.m. EST. Post the permalink to your story in the comment section of this post. (If you don't have a blog you may leave your story in the comments.)
I will then have non-biased Pediascribe representatives read through the stories and pick the top TEN.
Thursday, July 19th: Links to the top 10 stories will be posted for you to read through. Pediascribe readers will be the ones to choose the ultimate winner.
Friday, July 20th at 12:00 p.m. EST: Voting will begin here on Pediascribe.
Monday, July 23rd at 12:00 p.m. EST: Voting will end.
All may enter.