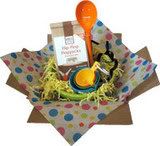 Head over and visit the Mums to enter to win a $25 gift certificate to Kids Central Kitchen.
All you have to do is leave a comment, on the giveaway post, stating what is your favorite thing to bake. Easy as pie!!

Baking is one of my favorite pass times – as if I had any time to pass…
Anyway, baking and decorating sugar cookies, with my kiddos, would be on the top of my list – It's so much fun to roll out the dough, cut the cookies in fun shapes, and then slather them with tons of homemade frosting!!

All may enter.