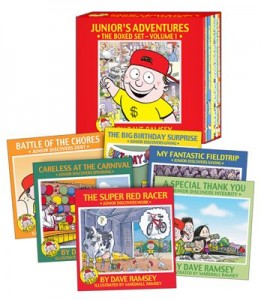 Junior's Adventures Books, by Dave Ramsey, are so much fun and all of my kids enjoy them, especially Josh. Just the other day I found him all snuggled up on the couch, with one book in his hands and the rest of the set scattered around him… so cute! Even my younger two love to browse through and look at the colorful pictures.
My older three, however, have learned a few valuable lessons from Junior's Adventures; lessons they have actually begun to put in to practice. Lessons about saving money, giving to others, and budgeting – all told in story form, on a level they understand fully.
The complete set of Junior's Adventures contains the following books ::
· The Super Red Racer (Work)
· Careless at the Carnival (Spending)
· The Big Birthday Surprise (Giving)
· My Fantastic Fieldtrip (Saving)
· A Special Thank You (Integrity)
· Battle of the Chores (Debt)
I have very excited to tell you that today's giveaway is a set of these fabulous books. Your kiddos will love them!
Here's what you must do to enter:
Leave me a comment, by 12 noon (pst) on December 24th, telling me which of the above books would be the most appropriate lesson for a little person in your life. Does your little guy struggle with spending or have a hard time saving? I'd love to know why you'd like to win this set.
For additional entries, you may:
Link to this giveaway on your blog and/or Facebook wall. Be sure you leave me a separate comment for each link.
Tweet about this giveaway and include a link, using the hashtag #D2Dgvwy, as many times as you'd like before noon tomorrow, and leave me a separate comment for each tweet.
One winner will be selected at random, and will be emailed. Winner will then have 24 hours to respond before forfeiting their prize.
Benefited giveaway