We are HUGE fans of TLC's Cake Boss. Buddy Valastro and his dedicated team keep us laughing, as we watch in awe while imagination and creativity comes to life in the form of beautiful cakes. Most recently we were wowed by the Sesame Street cake the size of our dining room table, the apple tree cake that made us drool, and then the life-size race car. And, of course, we will never forget the robot cake that actually moved!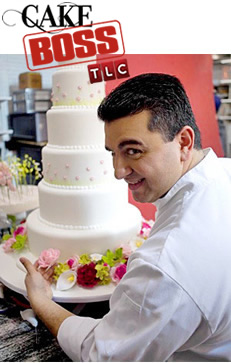 Well, when my friend Audrey told me that Buddy and Kelly Ripa had teamed up with Electrolux to raise money for the Ovarian Cancer Research Fund (OCRF), my respect for Buddy sky-rocketed. It was fun to see that they are raising money in a unique way by hosting Kelly's Cake Off for a Cause, with the team creating a two-tiered Fall-themed cake chosen as the winning team.
Now, even though the Cake Off is officially over, you can send a virtual cake to a friend to help the fight. Just as Electrolux sent $1 to the OCRF for each vote cast during the Cake Off, they will also send $1 for each virtual cake sent over the interwebz. (In addition to the satisfaction of knowing you ARE making a difference, you will automatically be entered for a chance to win a new induction range from Electrolux!)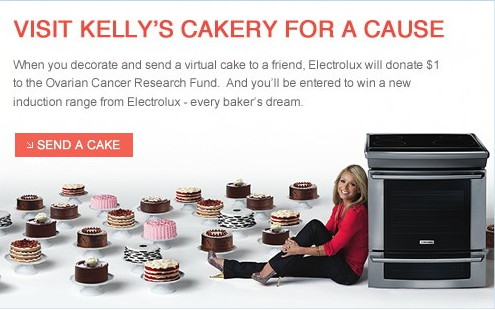 So, head over to Kelly Confidential and MAKE A VIRTUAL CAKE FOR SOMEONE SPECIAL. To make a difference. Just because.
And, after you've sent a cake, be sure you browse through Buddy's secrets… He's given us tips on making some of Carlo's Bakery's most popular cakes!