Last week, just minutes after I tweeted that I thought it was cupcake time, we received a special surprise :: Snapfish had sent us some beautiful cupcakes in honor of their 10th Anniversary!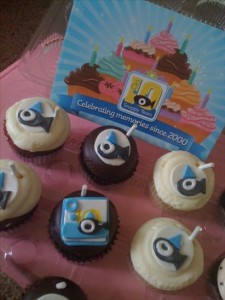 Their birthday bash goes beyond cupcakes, however. Snapfish is hosting a virtual birthday party, with special anniversary discounts and special promotions, to thank customers for sharing more than 10 billion of their more meaningful memories, and have asked for my help in spreading the word. You can find all of these discounts and special daily offers, as well as enter the "spin it to win it" sweepstakes, at their Birthday Bash site. Facebook fans can also access all of these goodies!
In addition, Snapfish has announced an exciting new offering, Snapfish Publisher. Snapfish Publisher has opened creation opportunities for designers and developers to market their products to Snapfish's over 85 million registered users!
More from Snapfish:
Starting this summer, Snapfish will offer a broader yet more specialized portfolio of customizable options that meet a myriad of creative needs and personal preferences thanks to Snapfish Publisher, which will allow designers and developers to create, share and sell their own creative card designs, photo book layouts and apps to market and merchandise throughout the worldwide Snapfish network.