Winners Have Been Selected… Congratulations to Becky and Chrissy!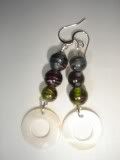 Lori, from Stereotypical Housewife, has created the most beautiful jewelry. You can see it at Mod Jewelry.
She is giving away two sets of her jewelry… One pair earrings with a matching necklace, and a pair of earrings with a matching bracelet!
Go visit Lori at Stereotypical Housewife for all of the details…. And don't forget to vote!

Why is hand-crafted jewelry the best??? Well, it could be because of the creative talent involved in making it. Or, it could be because of the uniqueness of each individual piece.
I like to believe that hand-made jewelry is the best, because it was made just for me!!

Lori's Three Bead Killer is my newest favorite! Check out the picture above and you'll see why!
If you decide to check out Mod Jewelry, hand-crafted especially for YOU, by Lori, please tell her that Christine at From Dates to Diapers sent ya!