Today, thanks to Mom Central, I picked up a new game for our Wii. Yes, I went by myself to GameStop and picked out a game. I know… Crazy, huh? Not so much, now.
We all like the more physically challenging sports games, so with GameStop employee, Jamie, helping me find the best game for our family, I picked out Deca Sports.
Let me tell ya, this is the ultimate sports package… There are 10 different sporting events! Ray and I tried the Badminton and Beach Volleyball tonight, and are already hooked!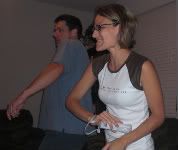 The kiddos get to play tomorrow!
Check out GameStop.com for all of your gaming needs… You'll be glad you did!