Since I've been talking a lot about breakfast lately, and have also been blogging a bit about breast cancer awareness, I wanted to tell you about Folgers' partnership with the National Breast Cancer Foundation. This month, Folgers is supporting breast cancer research and education for underserved women, with its limited edition Pink Can, which is now available in grocery stores and convenience stores, nationwide.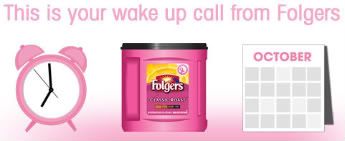 In addition to the Pink Can, and some good information, folgers.com is also offering a "wake up call" e-card that you can send to loved ones to make them aware of breast health and the importance of early detection.

Tips for Good Breast Health
Physical activity, a healthy diet, and a healthy weight can help reduce the risk of getting breast cancer.
All women age 40 and older should get an annual mammogram and an annual clinical breast exam.
Women age 20 to 39 should have a clinical breast exam at least every three years.
From age 20, women who choose to do a breast self-exam should receive instruction and have their technique reviewed at the time of their periodic health examination.
Women at increased risk (e.g., family history, genetic tendency, past breast cancer) should talk with their doctors about the benefits and limitations of starting mammography screening earlier, having additional tests (i.e., breast ultrasound and MRI), or having more frequent exams.
Would you like to win a Folgers Pink Can? I have 2 to give away!
Here's what you have to do:
Leave me a comment with your favorite coffee flavor, before 9pm (pacific) on October 28th.
For an extra entry in the random drawing, feel free to subscribe to my blog feed. You must remain a subscriber at least through the duration of this contest to qualify for a second entry. Make sure you leave me a separate comment saying you subscribed.
Two lucky commenters, chosen at random, will each win a Folgers Pink Can. The winners will be notified via email, so make sure you leave a valid email address in your comment.
Good luck!
This giveaway is now closed. The winners were Barbara and kristilb19!