We're planning to stay close to home this summer. But, summer close to home means lots of fun in the water… We've already been having tons of fun at the pool and Summer has only just begun!

Walmart, Huggies, and Juicy Juice want to help make sure you have loads of summer fun. Here are some tips to make sure you stay safe and happy this Summer:


Load up the lotion! Always apply sunscreen 15 minutes before heading outdoors. Be sure to reapply after towel drying, swimming or sweating.

Keep your cool. When you're at the pool, make sure your little ones take frequent shade breaks. Along with sunscreen, tote along an oversized umbrella and plenty of juice to keep them hydrated.

Make the water big fun! Keep the encouragement coming! Praise your little learner for every kick, splash and underwater bubbles.

Here's what we'll be packing with us to the pool just about every day this summer:
Huggies Little Swimmers for Noah
Juicy Juice and Snacks
Goggles
Sunscreen
Pool Toys
Big Beach Towels
Hand Wipes
Lots of Energy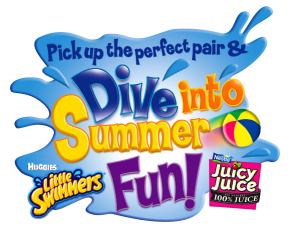 What will you be taking to the beach or the pool this Summer? Tell me in the comments, by 9pm June 5th, what you will pack in your beach bag and you could win a canvas bag full of goodies, from Huggies and Juicy Juice, to help you dive in to Summer fun!

UPDATED = There will be THREE winners chosen!!