I know I've mentioned before that my favorite part of preparing to start school every year, is getting our school supplies in order. Well, Crayola wants to help us beat the stress by sharing tips and creative ideas to make this back-to-school month more fun!

Every Tuesday night, this month, Crayola is sponsoring #gno, on Twitter, to bring you the "Crayola Creativitycast." This week I happen to be on the panel, and I'm excited to be part of the discussion on how creativity helps you build and strengthen relationships.



Join us and tweet the night away with other moms, Crayola creativity experts, and get great ideas to help you prepare for the best back to school ever for your kids!

How it works:

Every Sunday through Tuesday, through the end of the month, you can RSVP for the party by clicking on the RSVP post on MomItForward.com. There, you can include your Twitter URL in the link list and see the list of other #gno gals. (If Mr. Linky is not showing up, go ahead and leave your Twitter URL in the comments, which offers #gno gals the opportunity to follow and be followed all in one place.)

Visit MomItForward.com/gno each Monday for more information and a custom Tweet Grid for that week´s event, and on Tuesday nights, tweet using the hashtag #gno and #crayola and join the convo. #gno participants will also have the chance to win great prizes.

Every week through the end of the month we're also giving away a Crayola Creativity Pack, here at From Dates to Diapers. Each Crayola Creativity Pack includes the back-to-school list staples like 24-ct. Crayola Crayons, 10-ct, Crayola Markers and 12-ct. Colored Pencils and some of the new, innovative, affordable variations on these classics.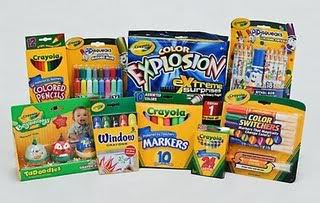 Here's how to enter to win this week's Crayola Creativity Pack:
Leave me a comment here, before next Friday (August 14th), with some tips of your own… maybe share how you nurture creativity in your kiddos, or ways you help your kiddos express their love for others in creative ways.
For additional entries, leave a comment upon completion of each of the following:
Follow me – @YoungMommy – and @Crayola on Twitter.
Tweet this, up to once a day, leaving a comment for each tweet :: Crayola Makes Getting Ready 4 School FUN! Enter 2 win #crayola creativity pack & join our #gno chat this wk :: http://bit.ly/RbP0F #D2Dgvwy
Become a fan of From Dates to Diapers on Facebook.
Grab my button and place it on your own blog.
">Subscribe to From Dates to Diapers.
You´ll be excited to find that Crayola is helping to stretch those back-to-school dollars even further this year with a lineup of school tools that are priced under $9 (with many of the school list must-haves like the 24-ct. Crayola Crayons and the 10-ct. Crayola Markers priced under $1.00 at retailers nationwide). But more importantly, what makes your investment go even further is the investment you´re making in your child´s development. Giving your kids the tools to power their imaginations doesn´t have to be expensive.

To learn more about these and other great back-to-school products, check out www.crayola.com.
See you on Tuesday!