Moxie Mona is an everyday superhero who is swooping in to see all of her friends in the blogosphere this week. Among others, she visited us here in California, and then was off to see the rest of her pals…
Will she be in a city near you?
Moxie Mona was waiting for us, bright and early, at the Sacramento Train Station. She looked a little haggard, like she'd had a long journey. We felt sorry for her and offered her warm hospitality at our home. Granted, we have six kids and you can't get much in the way of peace and quiet, but we do have lots of love to give.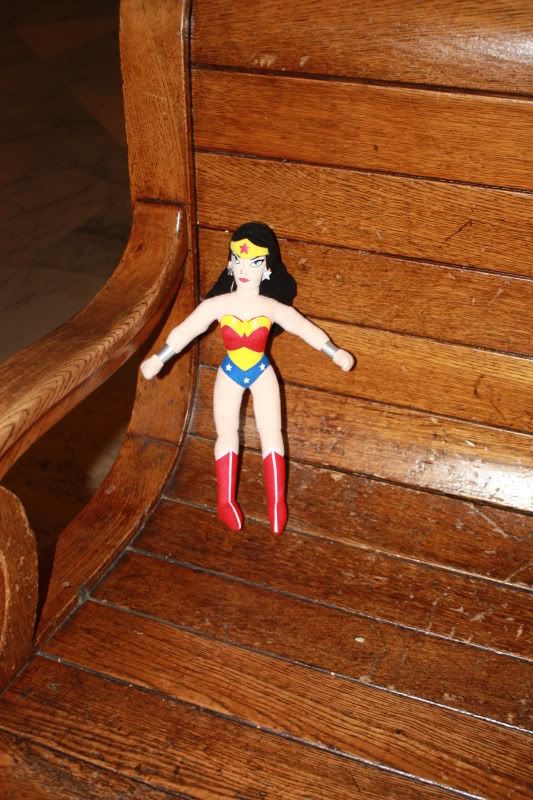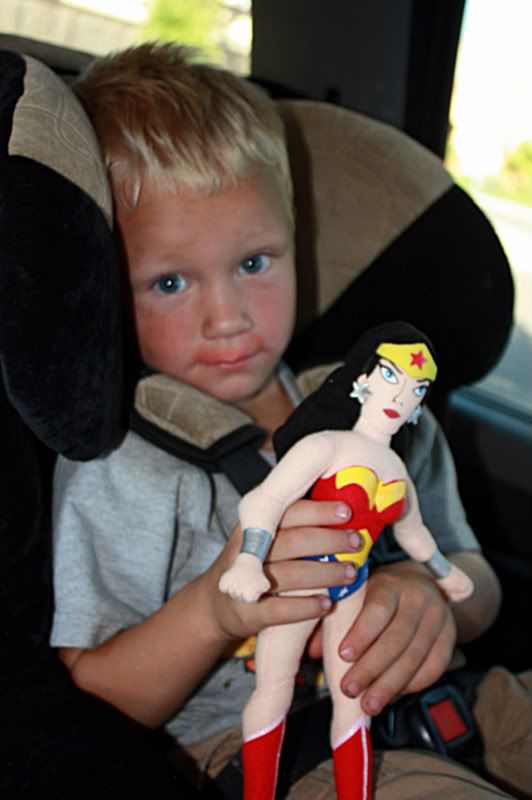 Mona couldn't wait to see the twins and Julia play soccer… She had a great time cheering the kids; her way to give back all the love they'd given her in her time of need, I suppose.
After the games, we figured a tour of Sacramento would help keep her mind off her troubles. So, we visited Sutter's Fort, the original European outpost in the interior of Northern California. Dating from 1839, the fort built by Swiss immigrant John Sutter – who worked the land around the fork of the American and Sacramento Rivers and even owned the land where gold was discovered a few miles from here in 1848, the one that led to the Gold Rush of 1849 – has stood the test of time.
Shortly after intimidating the fort's period costumed staff (who'd never met anyone who displayed such moxie), we took Mona to see the state capitol building, where the state capital was moved from Vallejo to Sacramento after California became a state in 1850. Mona liked the building's architecture, and especially enjoyed the beautiful rose garden out front.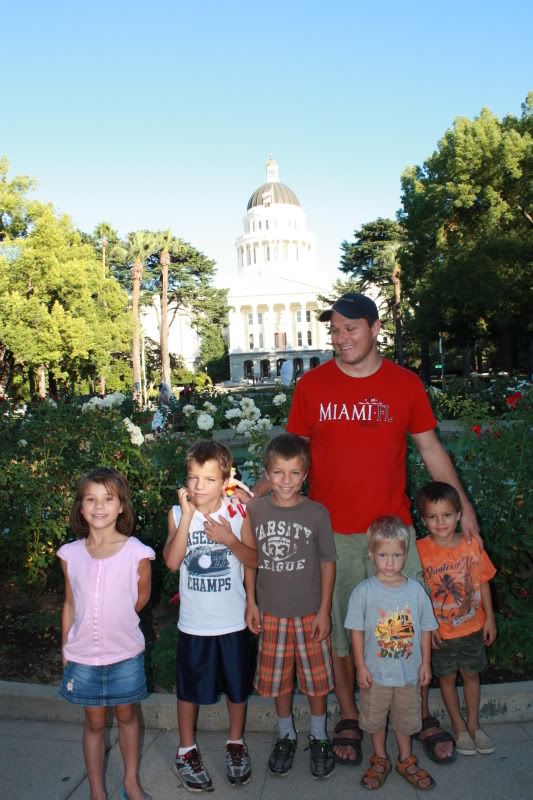 Leaving the Governator behind, we went to the western most outpost of the Pony Express. Running from St. Josephs, Missouri, to Sacramento, California, the last stop is right here in Old Sacramento. Mona was surprised to find out that the service was only operational for a little more than a year from 1860-61. Those brave young riders and their fast ponies were put out of business, not by hostile Indians as one would imagine, but by a modern technology called the telegraph.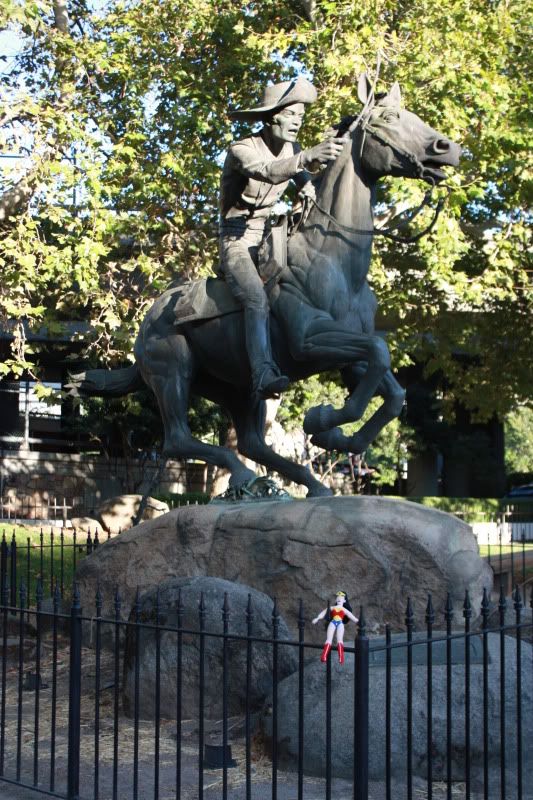 And right across the street, is one of the original Wells Fargo buildings where their famed stagecoaches would bring deposits, visitors, and fortune seekers from the East.
Mona was thrilled to see all that Old Sacramento has to offer as she strolled down cobblestone streets and wooden sidewalks that abut restaurants and candy stores. We couldn't hardly keep her out of them. Funny thing about superheroes, they have very little restraint when it comes to sugary snacks.
Once she and the kids had their sugar high, we decided to let them work it off along West Sacramento's River Walk. For several miles opposite Old Sacramento, you can walk and enjoy the river, ending up at the iconic Sacramento Bridge that leads to Raley Field where the AAA team for the Oakland A's – The Rivercats – plays.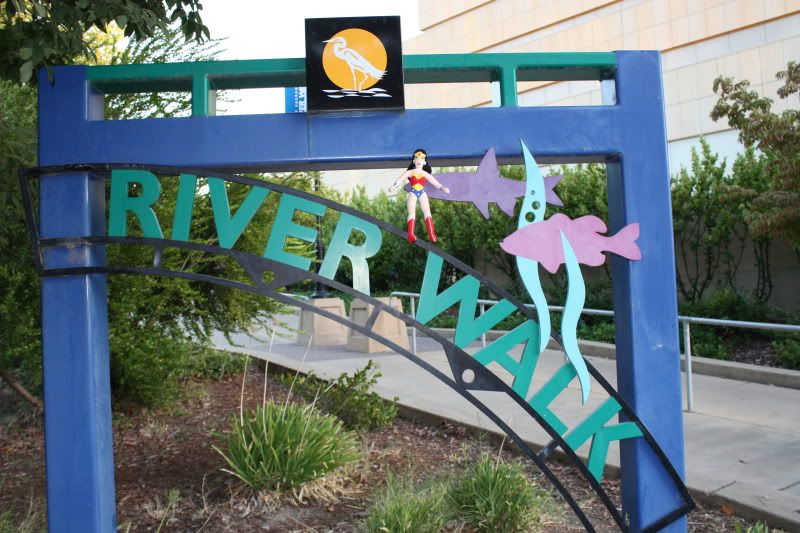 I do have to mention that Mona's favorite building was the Pyramid Building that used to house the now defunct Money Store. Back in the day, the Money Store helped normalize securitized mortgages that led to the mortgage and financial crises that we're now experiencing. How cool is that? Mona didn't think it was, so I let it drop.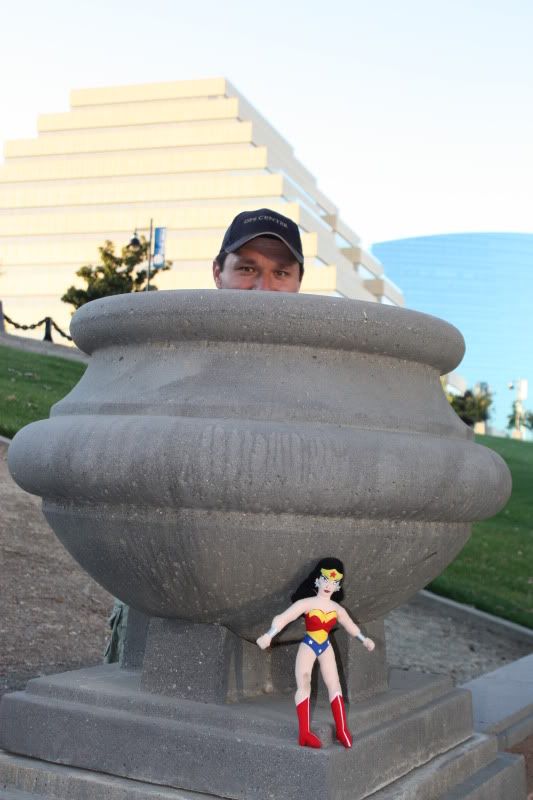 Mona wanted to see Arco Arena, where the Sacramento Kings play, but she didn't have time – the busy little superhero that she is. So, we put her on the first train out of Sacramento, on her way to another part of the blogosphere.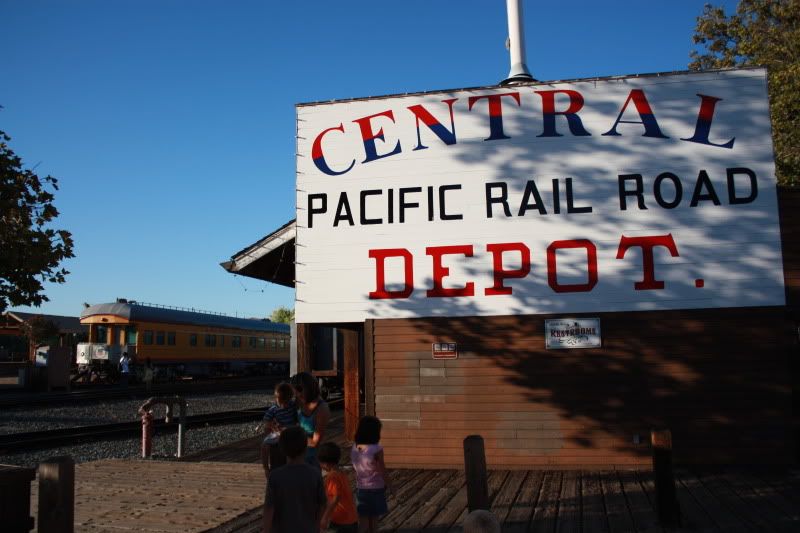 Thanks for visiting us, Mona!
{ 26 comments }