Even though most of my older kiddos love to read, now that summer is here and all of the neighbor kids are knocking on our door, I'm having a tough time getting them to sit still with a book. Even my younger tykes would rather be running around outside or playing on their new park than sitting with me to listen to a story.
Well, I've teamed up with Borders this month to bring you tips on encouraging your young'ens to read. Maybe these tips will help me and my kiddos, too.
HarperCollins and Jon Scieszka, author of Robot Zot and Knucklehead: Tall Tales and Almost True Stories of Growing up Scieszka, have provided this week's tip::
"If you want to inspire your boy reader, expand your definition of reading to include non-fiction, graphic novels, funny books, wordless books, audio books and magazines. Summer reading is a great time to explore texts that aren't covered/allowed in school reading."
To further foster a love of reading in your offspring this summer, Borders is hosting the Double-Dog Dare Summer Reading Challenge in stores across the country through the end of August. To participate, kids up to age 12 can read any 10 books they want, list them on a special form, and return the form to Borders for a free book!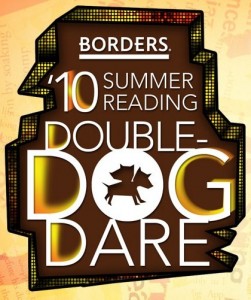 To give you and your kiddos a jump start on the dare, Borders is offering my friends a chance to win one of two (2) $100 Borders gift cards!
There are three ways to enter, but you must leave a separate comment for each entry to count:
What are your own tips for getting kids to read?
Tell me about your favorite book as a child.
Tweet the following -Encourage your kids to read w/ @Border's Double-Dog Dare Summer Reading Challenge & enter to win 1 of 2 $100 gift cards http://bit.ly/afROVL
All entries must be received by 9pm on July 1st, when the winners will be chosen. Both winners will be notified by email shortly thereafter.
Borders and HarperCollins have teamed up to provide me with a Borders gift card in exchange for my postings about the Double-Dog Dare Summer Reading Challenge. Of course, as always, all opinions are my own.