I scream, you scream, we all SCREAM for ice cream! Blue Bunny® ice cream, that is!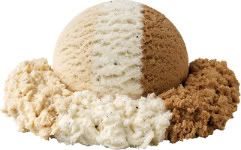 Being an ice cream lover, I most certainly have my favorites. When our family was first introduced to Blue Bunny® ice cream last summer, during my Virtual Ice Cream Social, I was a bit skeptical… Boy, was I in for a treat when FIVE cartons of the best of the best was delivered right to my door! Blue Bunny's® Coffee Break ice cream quickly became one of my newest favorites!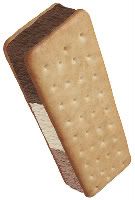 I bet you are wondering why I am telling you all this now, huh? Well, I have a treat in store for you… Blue Bunny® recently came to me and asked me if I would host a giveaway through the month of June, where FOUR of you could each win ice cream for an entire year. Of course I said ABSOTUTELY, so here we are!

I will choose a new winner each week for the first four weeks in June. Each of my four winners will get to pick out a carton of Blue Bunny® ice cream and a Blue Bunny® novelty pack, each month for an entire calendar year! You will also receive a Welcome Kit, complete with spoons, bowls and an ice scream scoop to get you ready for your ice cream!

For your first entry you may grab the button below, place it in a post or on your blog's sidebar, and leave me a comment saying you did so. Be sure to follow me on Twitter and keep your eyes peeled for more ways to enter!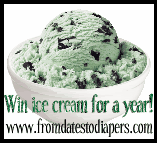 More ways to enter ~
:::Follow @Blue_Bunny on Twitter and leave me a separate comment saying you did. You can follow me, too, if you want!
:::What is your favorite ice cream flavor of all time? Tell me in a separate comment here for another entry!
:::You have a bowl of vanilla ice cream and can put anything on it… I would love to hear what goodies you like to put on your ice cream! For another entry, please leave a separate comment telling me all about it.
:::Leave a separate comment here telling me which Blue Bunny ice cream flavors you would like to try. If there is more than one flavor that catches your eye you may leave each flavor in separate comment each day! (Only one flavor comment per day, please.)
:::Let's show @Blue_Bunny some Twitter love! For another entry, send a tweet to @Blue_Bunny with a question about their ice cream treats. Be sure to use the hashtag #BlueBunny and then leave me a separate comment with a link to your tweet. Example tweet:: @Blue_Bunny What do you have to offer for those of us cutting back on calories? #BlueBunny

Newest way to enter :: Join the iScream Team for an inside scoop on new products, access to contests, and the opportunity to contribute to surveys. iScream Team membership certainly has its perks! Sign up now… and, get your $1 off coupon while you're over there! Don't forget to tell me, in a comment on this post, that you joined the iScream Team, and be sure to check out all of the other ways to enter!

Make sure you leave each entry in a separate comment!

There will be a winner chosen each week, from the comments on this post only. Each household will be given multiple opportunities to enter, but may only win once. Winners will be notified via email and will have 24 hours to claim prize. In the event that a winner does not reply within the time given, or the email is returned as undeliverable, a replacement winner will be drawn. Winner must be legal resident of one of the 50 United States or the District of Columbia, and supply an address where s/he can receive an over-nighted package of ice cream/novelty on dry ice – unfortunately, this means no P.O. Boxes will be accepted.

CONGRATS to our winners:
Week One – Karen @IfICouldEscape
Week Two – Alyssa @KingdomFirstMom
Week Three – Susan
Week Four – Kari @alas3lads



Giveaway Sponsored By: