My family could be the poster family for Old Navy… From their jammies to their swim wear, all of us literally live in their clothes! I shop both online at OldNavy.com and in their stores, but I can barely believe the kind of savings to be found at OldNavyWeekly.com. Of course, the amount you can save depends on how good of a coupon hunter you are, but a bit of luck might help, too!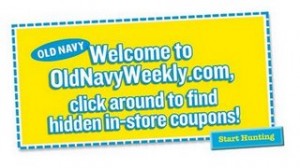 Guess what? Since Old Navy knows how important they are in helping to make family life fun and comfortable, OldNavyWeekly.com and I have teamed up to offer you special discount coupons through a very special giveaway. I have NINE coupons , each good for $65 off a purchase of $100 or more, to give to nine very lucky readers (it was ten, but they said I could keep one!)!

This is a short giveaway, because I want to give you plenty of time to shop before these coupons expire on July 9th. All entries must be received, in the comments on this post, by midnight (pst) on July 4th. That leaves you FIVE shopping days.

Here's what you need to do to enter:
Leave me a comment here, telling me why you love Old Navy. Easy enough, huh?
You may do each of the following for additional entries, but each entry must be left in a separate comment to qualify:
Tweet about this giveaway, using the hashtag #D2Dgvwy and the following link :: http://tinyurl.com/nhmjja. You can do this every day during the duration of this giveaway for a separate entry!
Post a link to OldNavyWeekly.com AND this giveaway (using the link above) on your Facebook wall. Be sure you leave me a link to your profile.
Blog about this giveaway and link to OldNavyWeekly.com AND this giveaway (using the link above). Be sure you leave me a link to your exact post.
Go on the hunt at OldNavyWeekly.com and tell me what great deal you find and where.
Subscribe to The SuperModelquins YouTube Channel, watch at least one of the videos, and tell me about it here in the comments.
Now, head over and start clicking around to uncover valuable store coupons…. Right now there are plenty of coupons good for 10% and 15% off your entire purchase, but new ones are added every day!

HAPPY HUNTING and GOOD LUCK!