Last week I told you about my daily skin care routine and how I tried a new device that I believe caused my skin to detox, thus breaking out a bit. Well, now that my skin has cleared, I only have good things to say about the illuMask Anti-Aging Phototherapy Mask.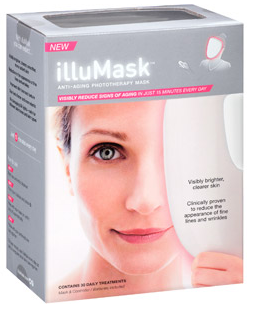 The illuMask is available at Walmart (for only $29.97), it comes with the mask and controller and gives 30 daily treatments. The mask promises to visibly reduces signs of aging in just 15 minutes every day and after only 15 treatments, I have to say, I'm already noticing quite a bit of a difference and it's only been 2 weeks so far.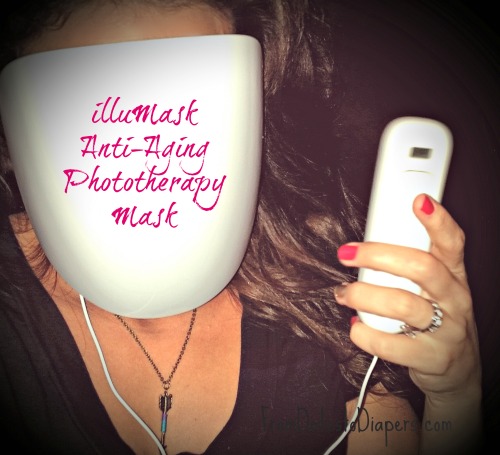 I had quite a few wrinkles in my forehead; a couple of sun spots; and I was beginning to see a few signs of … getting older. After using the illuMask the past two weeks, I have noticed that my wrinkles are less noticeable; my skin seems smoother and tighter; and, since that initial breakout, my face is clearer and brighter.
My face was completely clean before I put the mask on each day. Some days I would lie and listen to peaceful and calming music in the evening (as pictured above), or I would lie in bed for an extra 15 minutes in the morning before starting my day. My littlest guys seem to have gotten it in their heads that the mask is giving me super-powers… I have yet to tell them otherwise. Mainly because they leave me alone and think it's way cool!
How does the illuMask Anti-Aging Phototherapy Mask work?
illuMask Anti-Aging Phototherapy Mask delivers phototherapy in a safe, convenient and easy mask treatment to make your skin look and feel younger and more beautiful. Red light evens skin tone and reduces roughness. Infrared light reduces the appearance of fine lines and wrinkles. Phototherapy is a safe and effective skin care technology that uses good light to treat skin conditions. For decades, light treatments have been used by top dermatologists, spas and skin clinics. Now, based on similar technology, illuMask makes it possible to achieve affordable cosmetic results at home. With illuMask, you can expect: visibly brighter, clearer, smoother, more radiant skin; reduction in the appearance of fine lines and wrinkles; improved skin tone and texture. illuMask is designed and recommended by doctors. No damaging UV lights–illuMask is safe for different skin tones and skin types. illuMask visibly reduces signs of aging in just 15 minutes every day.
I'm anxious to see the results after a full month of using the illuMask. I'll be sure to update!
As a participant in the Walmart Moms Program, I've received compensation for my time and efforts in creating this post. All thoughts and opinions are my own.
{ 0 comments }